West Winds Distillery & Tavern
We take our distilling seriously; what we don't do is take ourselves too seriously. West Winds is about fun, unique experiences and pride of place. Home for West Winds is our purpose-built Cowaramup distillery: a place at the heart of the of the magnificent South West to taste, discover, experience and enjoy our unique gins, vodkas and whiskies in context. This is where our boffins create, develop and produce Australia's finest distilled spirits and the West Winds Discovery Centre provides the perfect home for tutored tastings to get to the essence of what it is that makes West Winds special. So yes, this is serious stuff. But not so much that we can't all have a laugh together.
Then what better way to fully understand West Winds than by experiencing a mouthwatering meal paired with brilliant West Winds cocktails, local beers and local wines in the West Winds Tavern.
Our Cowaramup Distillery is The West Winds spiritual home and the Tavern its beating heart.
Location: 29 Hasluck Street, Cowaramup W.A. 6284
Distillery Opening Hours:
Monday - Sunday: 10am - 5pm
Distillery Phone Number: (08) 9778 5441
Tavern Opening Hours:
Monday - Sunday 11:30am - 8:00pm (or later)
Tavern Phone Number: (08) 9778 5392
$17 Cocktails and $8 Pints every day from 5pm-6pm at the Tavern.
Dogs with behaved owners allowed...
GROUP BOOKINGS ESSENTIAL FOR 8+ PEOPLE
Tavern Winter Menu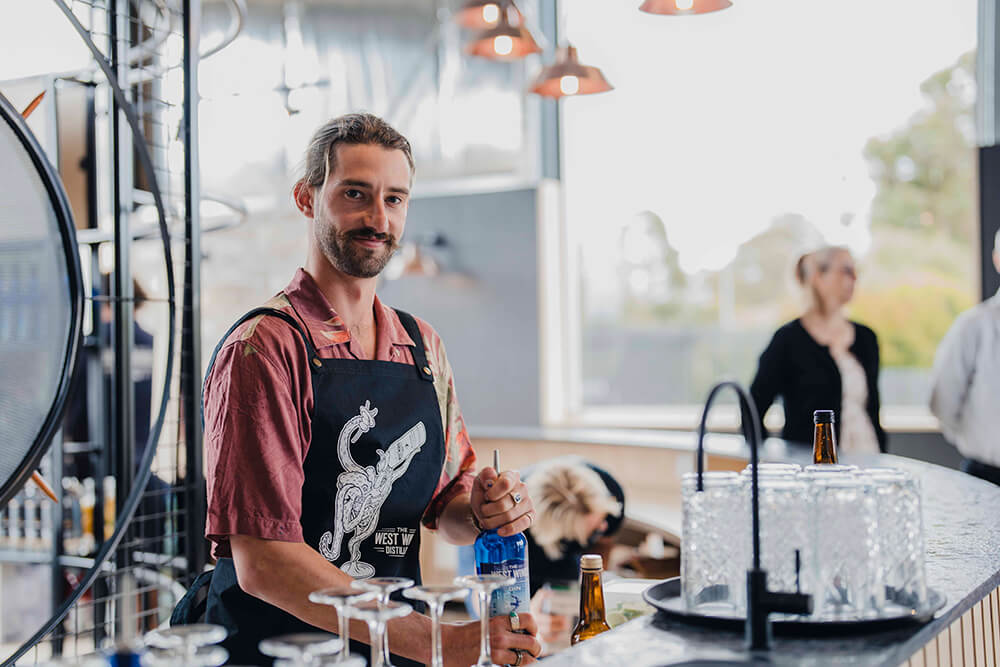 The West Winds spirits are unashamedly different and uniquely Australian. Inspired by seafarers and distilled by craftsmen. We're continually in search of new horizons that celebrate our energy and passion for distilling, and our connection to land, sea and the unique plants, fruits and flora of this incredible continent that are the basis of our award-winning spirits.
During your time with us you'll discover what goes into making our premium spirits collection and learn what we think makes a truly great spirit, from the unique Australian native botanicals we use to the way we balance the flavours of our spirits and how to best serve them.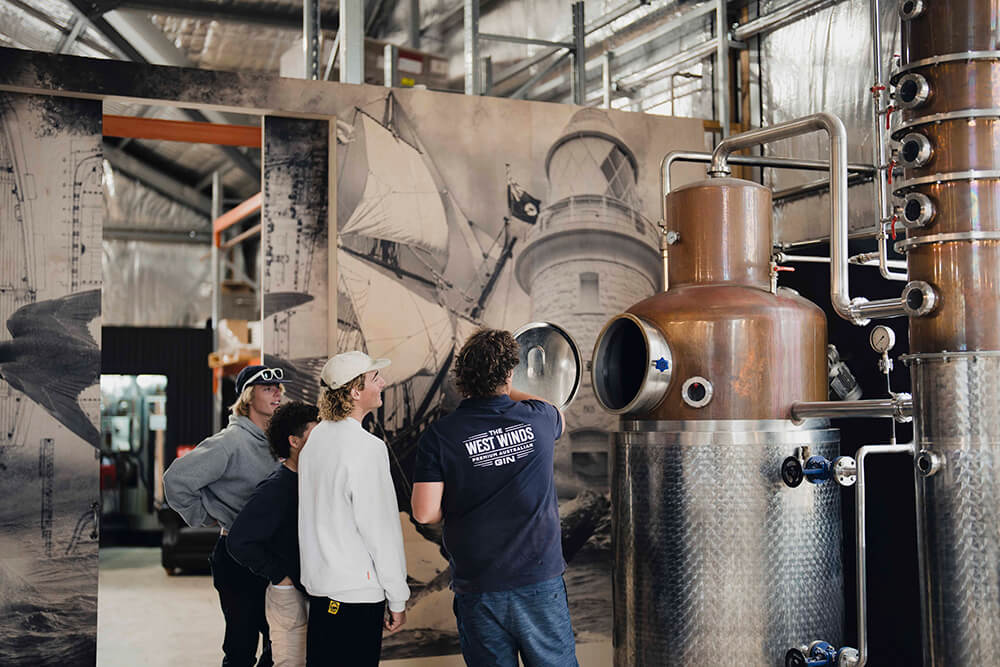 If you'd like to organise a meal in the Tavern or a tasting in the Distillery for a group larger than 8 people, please use the booking form above, and we will look forward to welcoming you to the West WInds Distillery & Tavern in Cowaramup.
If you are looking for somewhere for a great meal or a place to hang out with friends for a few drinks then look no further than the West Winds Tavern. On balmy days you can relax outside in the sun or shade and on cold days you can keep warm in front of our roaring wood fired stove.
Not only is there lots of space in the courtyard area to enjoy time with friends, there is also a myriad of ways to keep the children amused (young and old).